W
elcome to Host A Party Online! We have a large selection of Direct sales, Party Plan Companies and Work from Home Business Opportunities. You can contact a consultant to view catalogs online, to purchase home party products or to become a consultant for one of the Direct Sales companies listed on our website.
Purchase "home party company products" like Tupperware, Vino Virtuoso Wine Parties, Pampered Chef, The Traveling Vineyard, Mia Bella Candles, AVON, AZULI SKYE, Latasia Jewelry, Lia Sophia Jewlery, At Home America, Wines for Humanity, 3000BC @ Home Skincare and more without attending a home party! Take a look at all of the Home Party Companies featured on our website by visiting our Home Party Companies list.
---
we have leads for these home party companies...
We currently have leads for the following companies on this website and we do not have a rep to service them. If your company is listed below please sign up for a consultant page to get all of these leads emailed to you!
We are Looking for Consultants for these Direct Sales Companies:
---
featured home party company...

Have you seen Tupperware lately? I am the owner of HostAPartyOnline.com and also a Tupperware Director in California. I chose Tupperware because of it high quality kitchen tools, the demand for the products, and the flexibility that this company provides. Many people are looking for Tupperware products and do not know where to find a Tupperware consultant - making this a fantastic opportunity for anyone looking to start their own business.
If you have any questions about shopping on my Tupperware website or would like information about our 40% fundraising program, selling Tupperware or about our Tupperware lifetime warranty please contact me! I would be happy to help you!
Please also view the other direct sales businesses on this website! You can find a list of the current Direct Sales, Home Party plan companies on the left. To view our complete selection of companies please see our Alphabetized Company Directory!
---
scented Candles...
Do you love scented candles? Have you burned a Mia Bella candle? If not, you have to try one of these highly scented candles! They burn cleaner than regular candles and come in over 100 scents!
If you are interested in a work from home business opportunity by starting your own scented candle business check out the website to learn more about the Candle of the Month autoship program and to become a candle distributor. You can buy candles at wholesale and even receive your own online candle store!
---
advertising

your business online...

If you are a consultant with a home party company please visit our advertising page for our rates and services. We have many options available to assist you in getting more exposure for your business. Click here for more information on advertising on HostAPartyOnline...
---
home party games for consultants...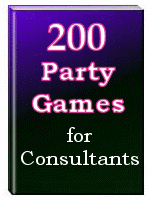 Are you a consultant for a party plan company? Are you looking to add some fun to your home parties? Purchase our home party games for consultants today! This party game ebook comes with over 200 home party games that you can play at your parties to generate more sales, recruits and to make your parties more fun for your guests!
Click here for more information and to order your Home Parties eBook...
---